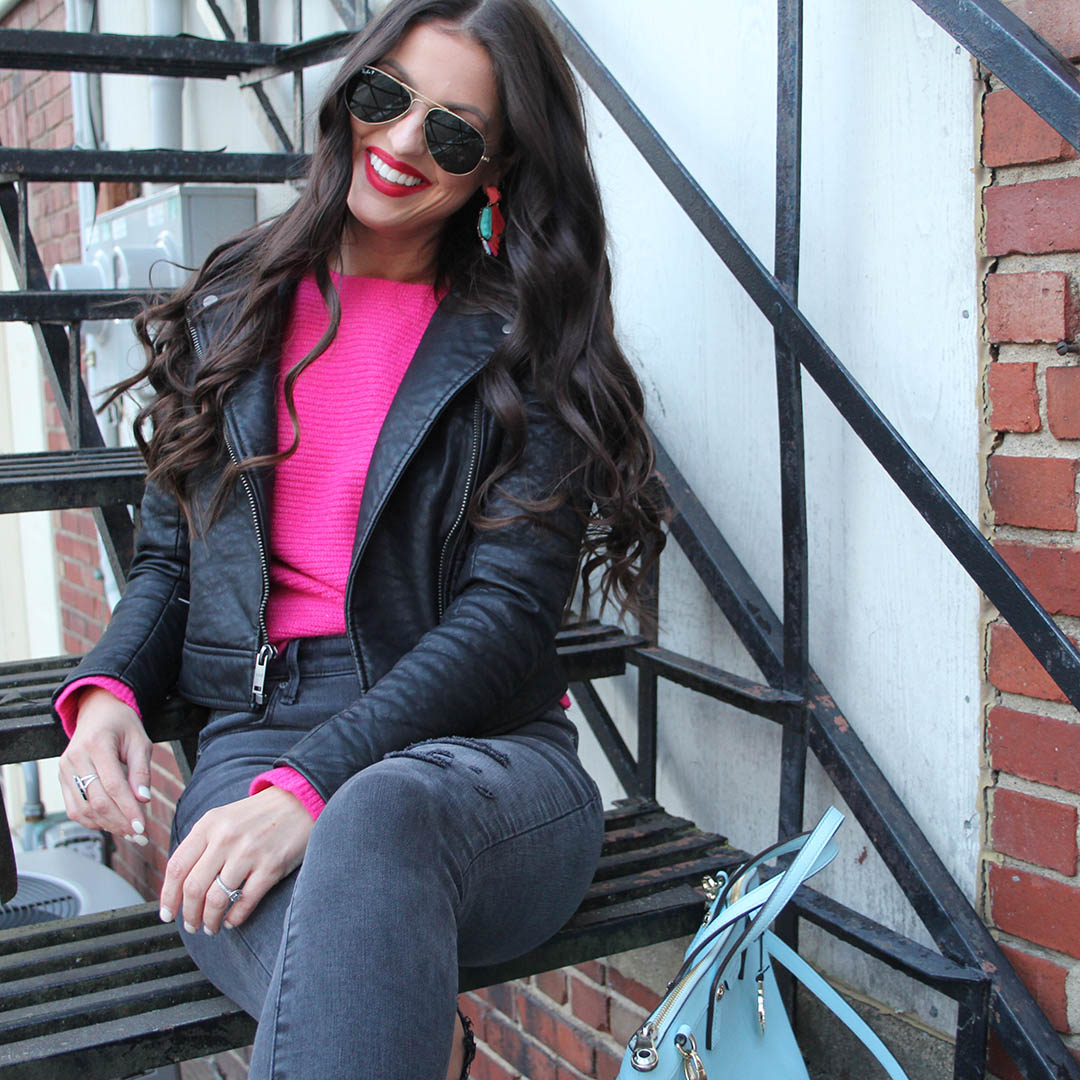 Pink Sweater: (xs) Loving this cropped sweater, and especially the bright pop of pink! Since this sweater is cropped it definitely looks best paired with high-waisted jeans or skirts. I think this sweater would be perfect for a Valentine's Day look if you aren't planning on getting too dressed up. This sweater also comes in multiple colors, and I think I'm going to buy it in white as well.
Faux Leather Jacket: (xs) I have been looking for the perfect fitting black leather jacket for a long time! I always prefer to have a very fitted look when it comes to my jackets and coats, and the fit on this one is perfect! Now I do have another black faux leather jacket from this same retailer, but I like to wear it with thicker sweaters and sweatshirts underneath it. What really sold me on this jacket other than the perfect fit was that it has a removable faux fur collar. It is such a fun detail for the colder months, and then so easy to remove for the warmer months.
Black Jeans: (25) These are one of my favorite pairs of jeans! They are a faded black, so I feel like I'm able to pair a lot more with them. I'm really picky about how distressed jeans are, and I think these ones are perfect. I've worn them so much that they're definitely more distressed than when I bought them. They are also perfectly high-waisted and have a good stretch to them.
Animal Print Mules: (tts) These are shoes I have shared numerous times, and probably the most popular! They will randomly get restocked, but sell out incredibly fast. These mules are so comfortable! I packed them for a long weekend in Montreal, and wore them the entire time.. my feet never hurt. So they definitely pass the test when it comes to walking long distances. These shoes are only $28, so they're definitely a steal.
Earrings: I've had these earrings for several years now, and unfortunately they're no longer available. They're from Baublebar, which is where I get the majority of my statement jewelry. I love pairing pink with a pop of turquoise, and also love turquoise and leopard together. I'm going to link some other jewelry that I think would look great with this sweater.