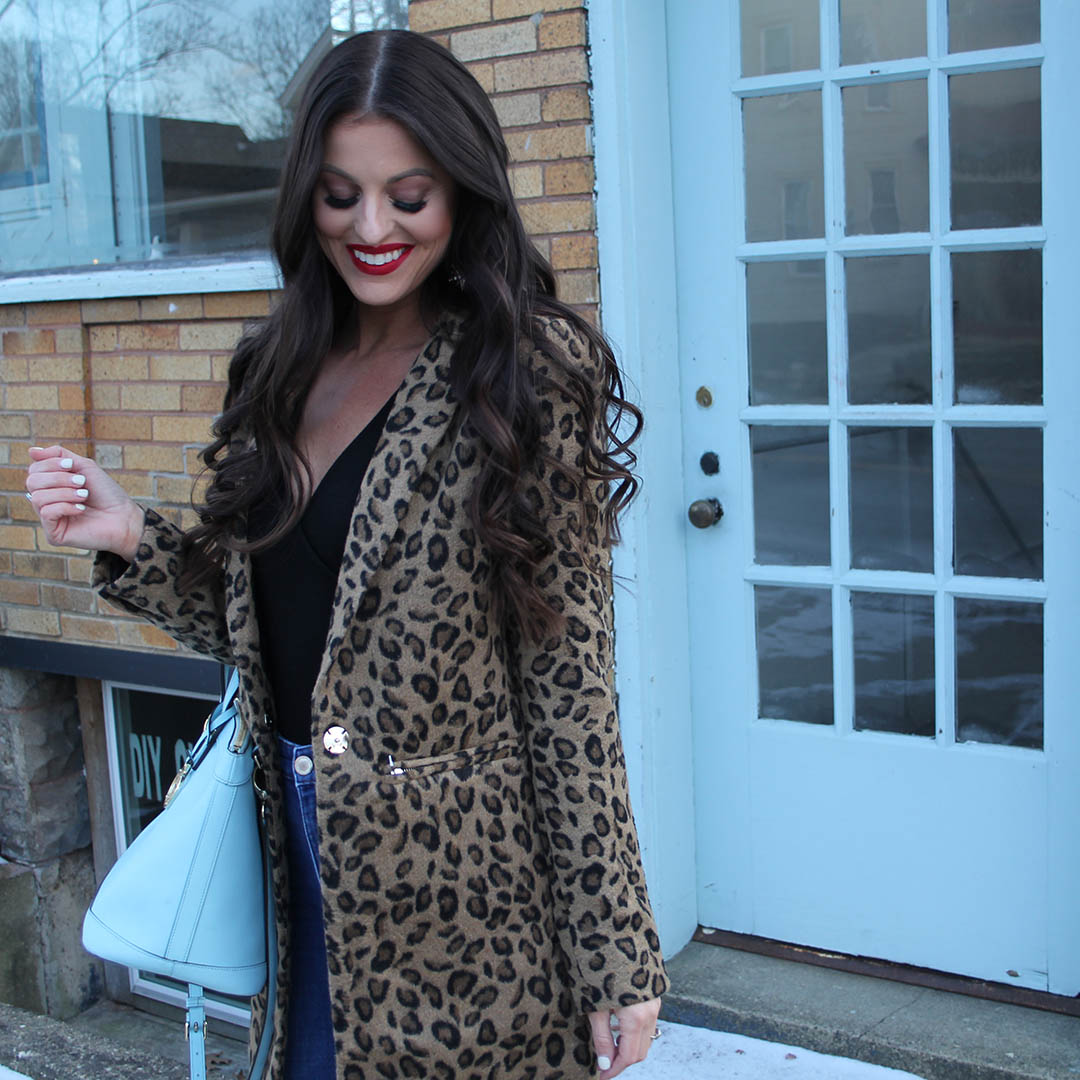 Leopard Coat: (xs) I found this coat at TJMaxx the day after Christmas, and unfortunately haven't been able to find it available online to link for you. The brand is Kylie & Kendall. I have a very similar leopard coat, so I'm going to link that here. I have a small in this other leopard coat, but would have preferred to have an xs but it wasn't available when I ordered it. It's currently on sale for $66. I love wearing coats with fun prints or bold colors when I'm wearing a really plain or basic outfit. Just throwing a coat on like this will completely change the look of your entire outfit.
Black Bodysuit: (xs) This is my favorite long-sleeve bodysuit that I own! I also own it in a light pink color. I bought this bodysuit last year, but this year they brought it back but the sleeves are 3/4 length, not full length. I bought the 3/4 sleeve version in white, and love it as well. My favorite thing about this bodysuit is that it covers your entire booty, which makes it the most comfortable bodysuit that I own! Not only is this top really comfortable, it's also very flattering. I also want to mention that I find myself always reaching for my bodysuits whether they're long-sleeve or a tank. For me, bodysuits are a closet staple and you can wear them year round. So I don't mind spending money on them because I get so much wear out of them, and they're also something you'll hang onto for years to come.
Jeans: My sister and I both bought a pair of these jeans while we were in Amsterdam at Zara. As soon as we got home we tried to find them in the store and online to buy another pair but never could find them. They're my favorite pair of regular denim jeans that I own. I'm going to link some of my other favorite jeans that I own that are also high-waisted and perfect to wear with bodysuits .
Nude Heels: (tts) Every girl needs a good pair of nude heels. They go with everything, and the heels on these are short so I can get away with wearing them for long periods of time. I love wearing these with my skinny jeans, but also love wearing them with my mom jeans as well.
Star and Moon Earrings: How cute are these earrings?? They're under $13 and take any outfit to the next level! I love any star and moon jewelry, so as soon as I saw these I had to have them. I think when you wear these you really don't need to wear any other jewelry. I'm also linking some other fun star drop earrings that are also budget-friendly as well.