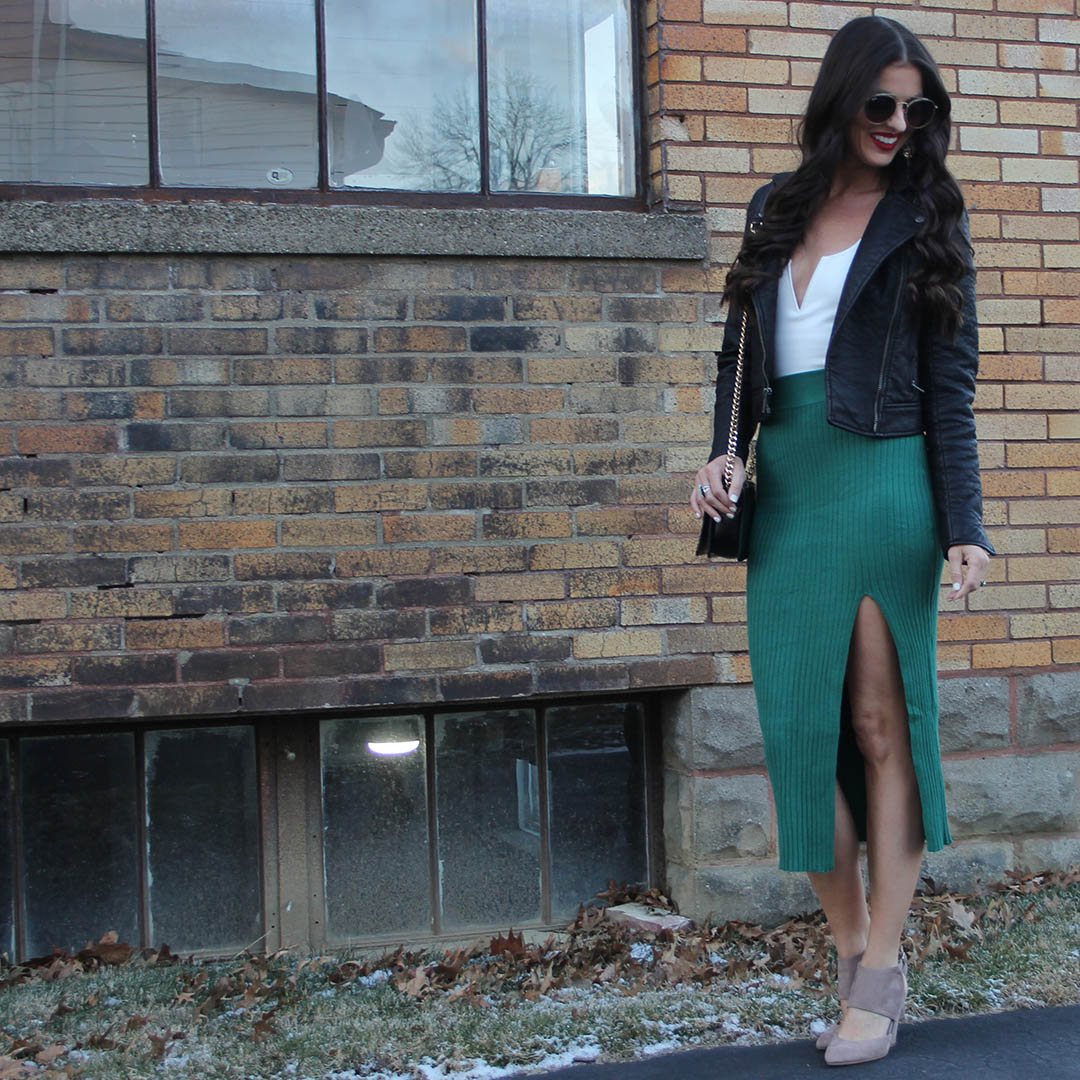 Bodysuit: (xs) This is hands down my favorite bodysuit that I own! It is so incredibly flattering, and I also own it in two other colors. I love wearing this under kimonos, sweaters, and jackets. This is definitely a piece that you can wear year round. It comes in white, black, and just recently came out in burgundy. I'll also link to my second favorite bodysuit that comes in so many different colors. The v-neck isn't as deep on this one if you're looking for something less revealing.
Skirt: (small) I'm going to start by saying that I want this skirt in every single color! Unfortunately, it's currently only available in green. This is the perfect skirt for a date night, but could also be dressed down with a cute vintage tee. I love the slit, and the fit is so flattering. The material is not as thick as other knit skirts I own, so I could definitely get away with wearing this in the warmer months as well.
Faux Leather Jacket: (xs) I have been looking for the perfect fitting black leather jacket for a long time! I always prefer to have a very fitted look when it comes to my jackets and coats, and the fit on this one is perfect! Now I do have another black faux leather jacket from this same retailer, but I like to wear it with thicker sweaters and sweatshirts underneath it. What really sold me on this jacket other than the perfect fit was that it has a removable faux fur collar. It is such a fun detail for the colder months, and then so easy to remove for the warmer months.
Star and Moon Earrings: How cute are these earrings?? They're under $13 and take any outfit to the next level! I love any star and moon jewelry, so as soon as I saw these I had to have them. I think when you wear these you really don't need to wear any other jewelry. I'm also linking some other fun star drop earrings that are also budget-friendly as well.