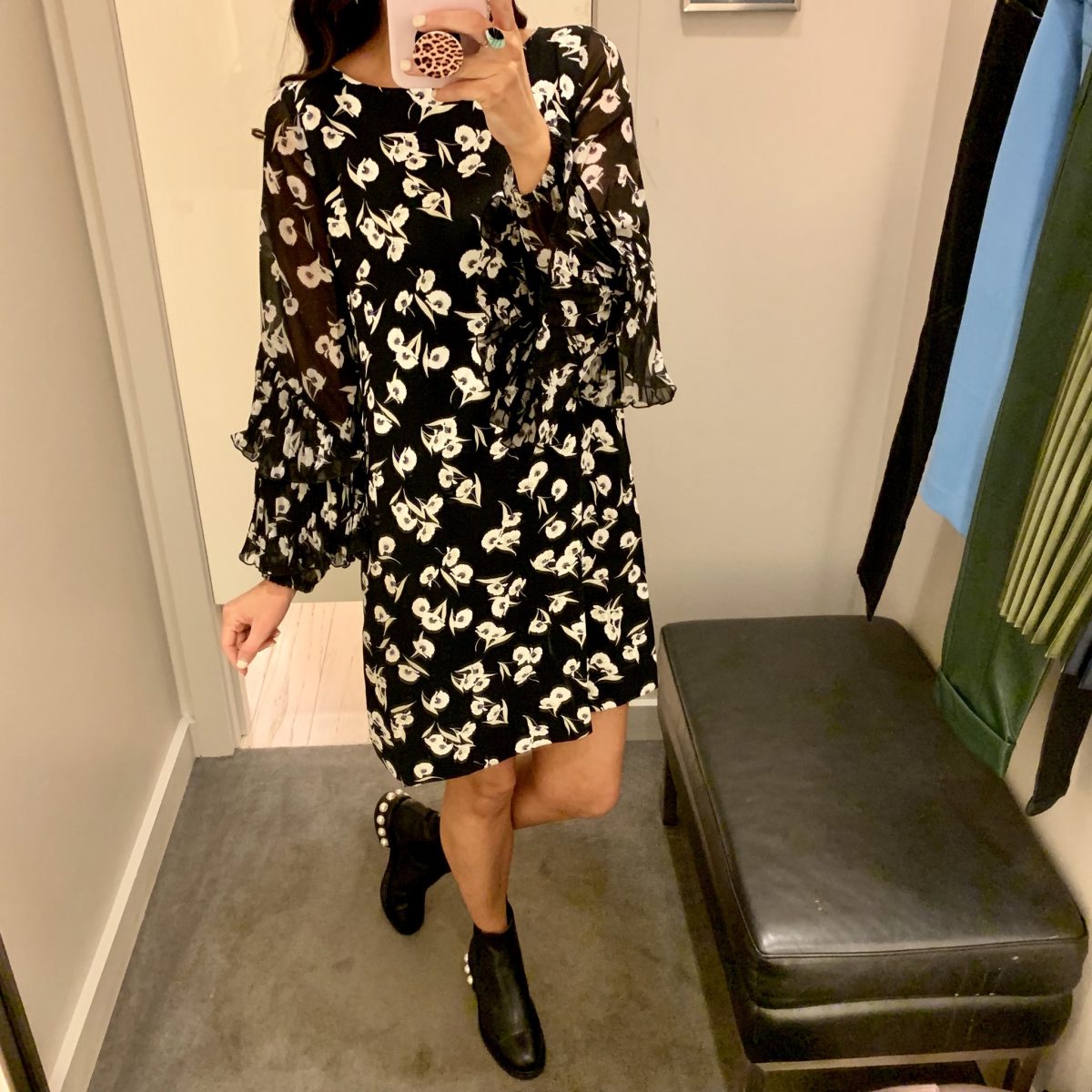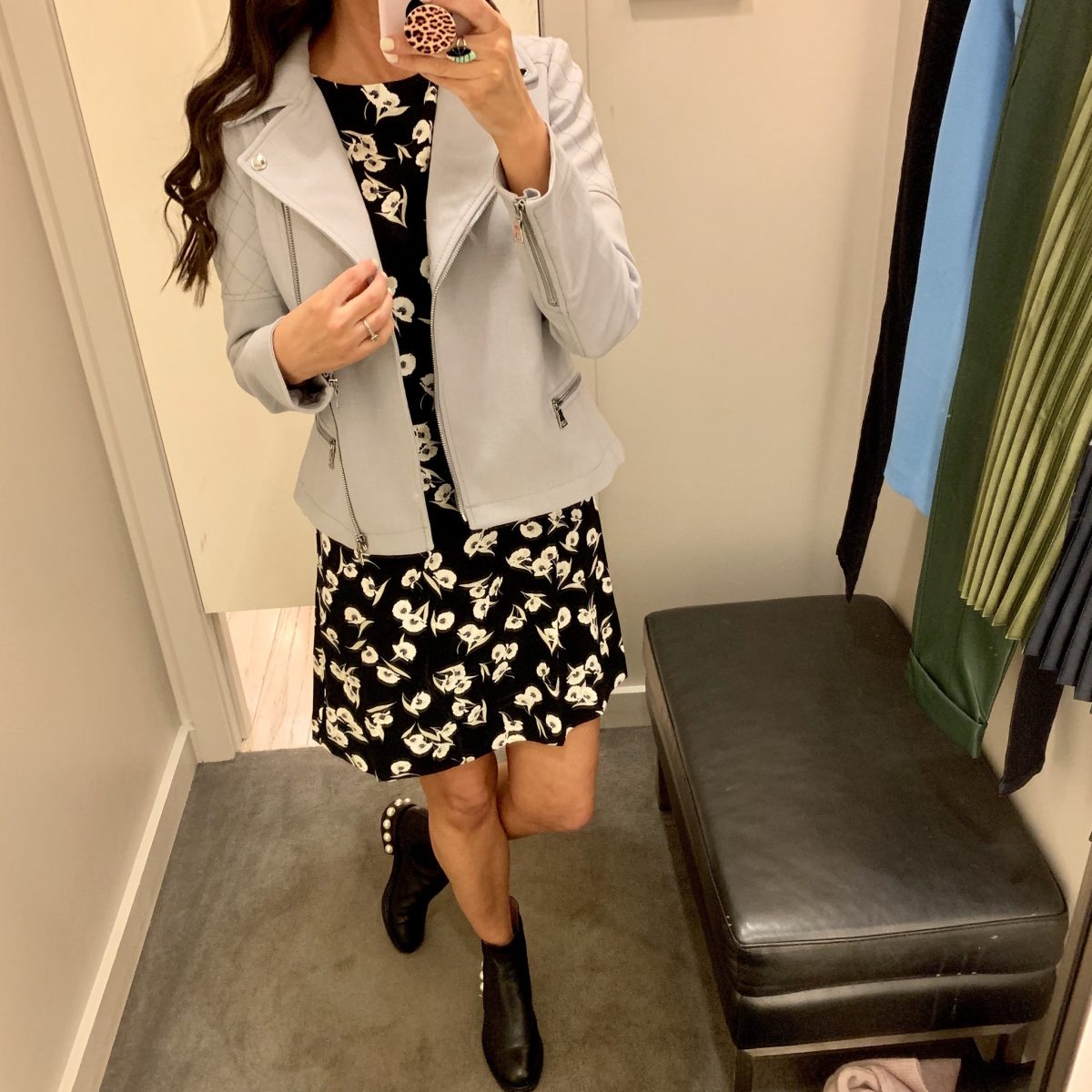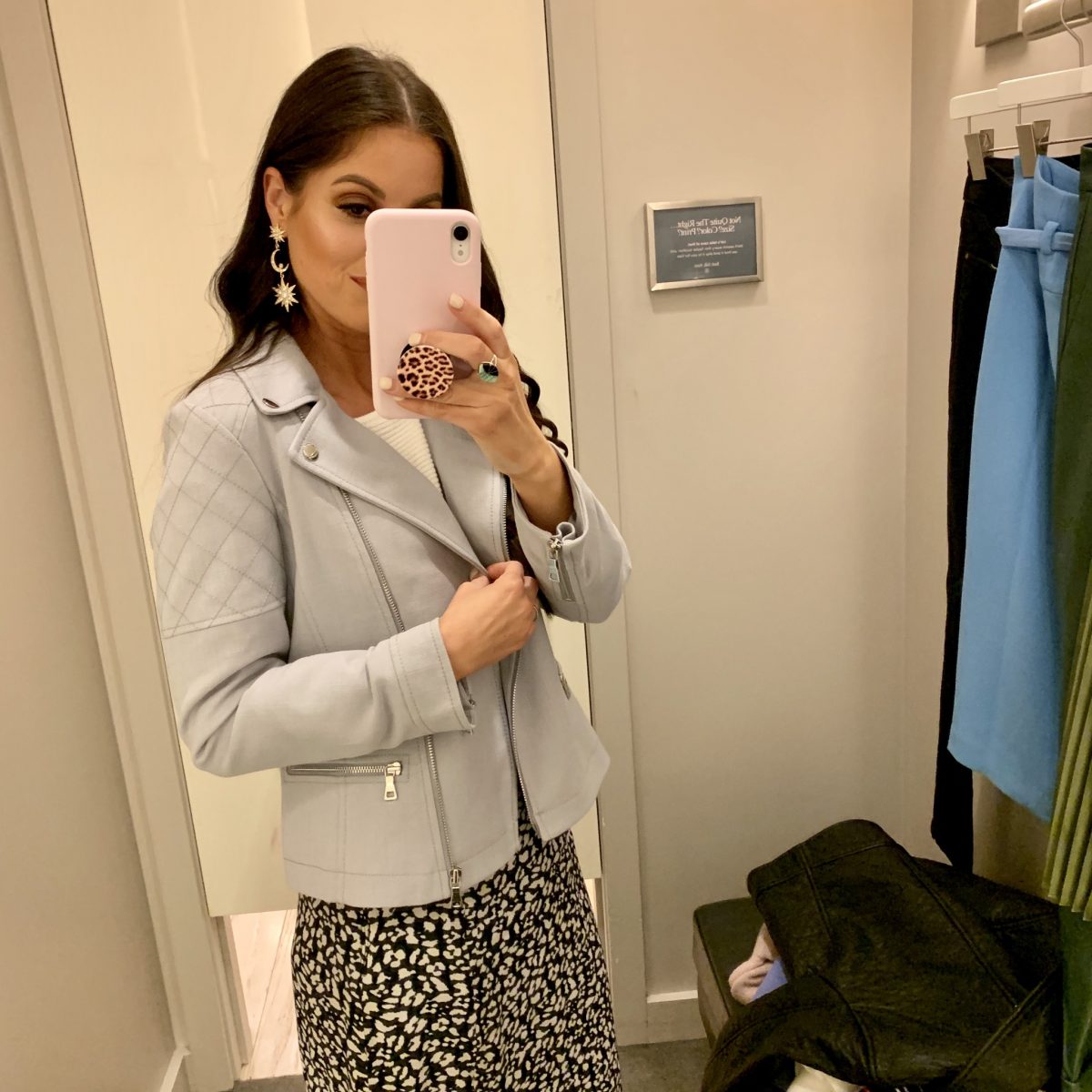 Dress: (xs) These pictures do not do this dress justice! I originally picked this dress up to just try on with this moto jacket, and as soon as I put it on I fell in love. These sleeves are actually fitted underneath the ruffles so they stay in place. I love the look of this dress with the leather jacket and pearl-detail booties for a more edgy look. This dress is a great piece to dress up or down.
Moto Jacket: (xs petite) I'm a sucker for a good jacket, especially a moto jacket. I talk about buying pieces that you will hold onto for a long time, and jackets and coats are definitely in that category. The color of this jacket is gorgeous and would describe it as a blueish gray color. I prefer my jackets and coats to be more fitted, so for that reason I tried on an xs petite. I have another moto jacket that I bought from Ann Taylor last year, and I preferred the look of the petite in that as well.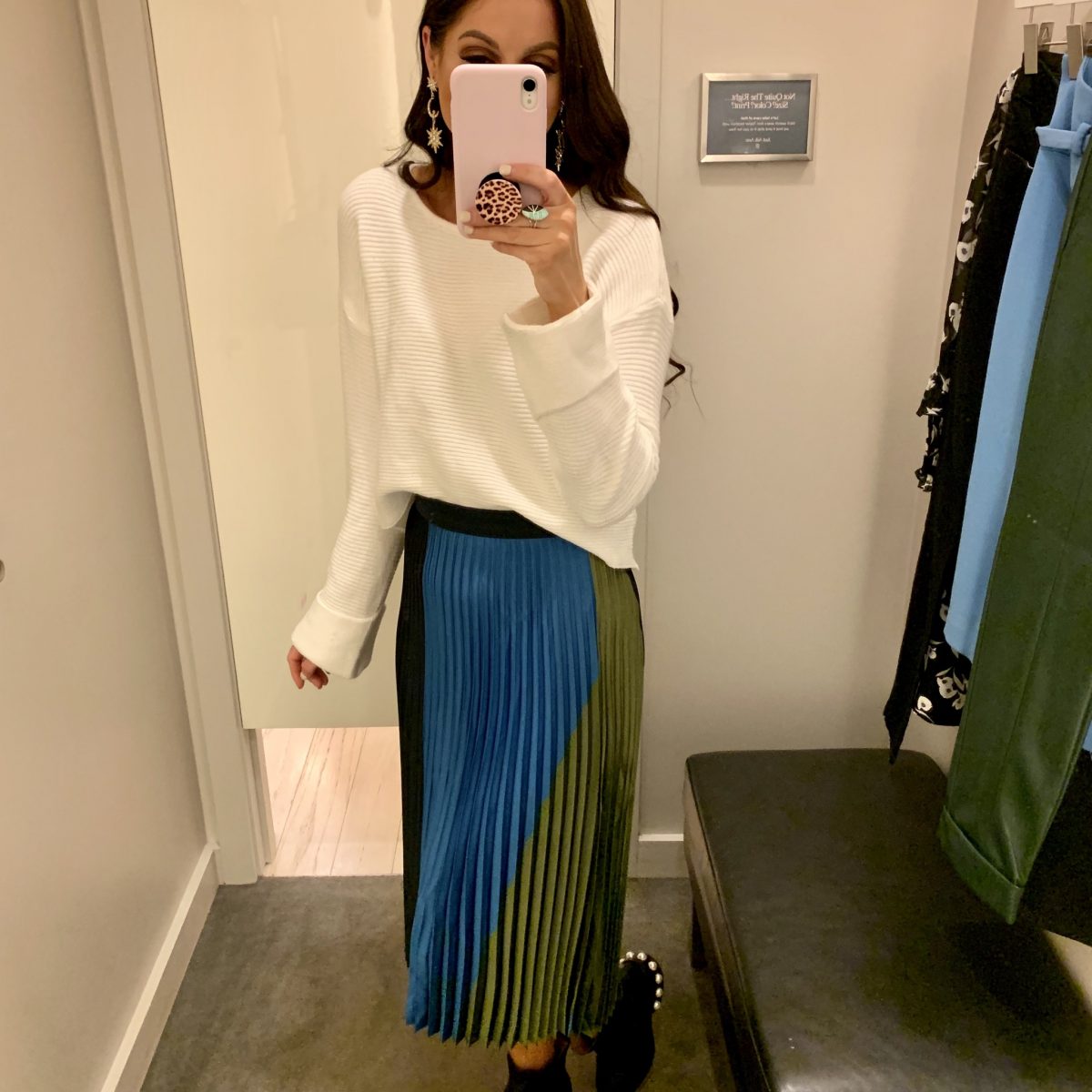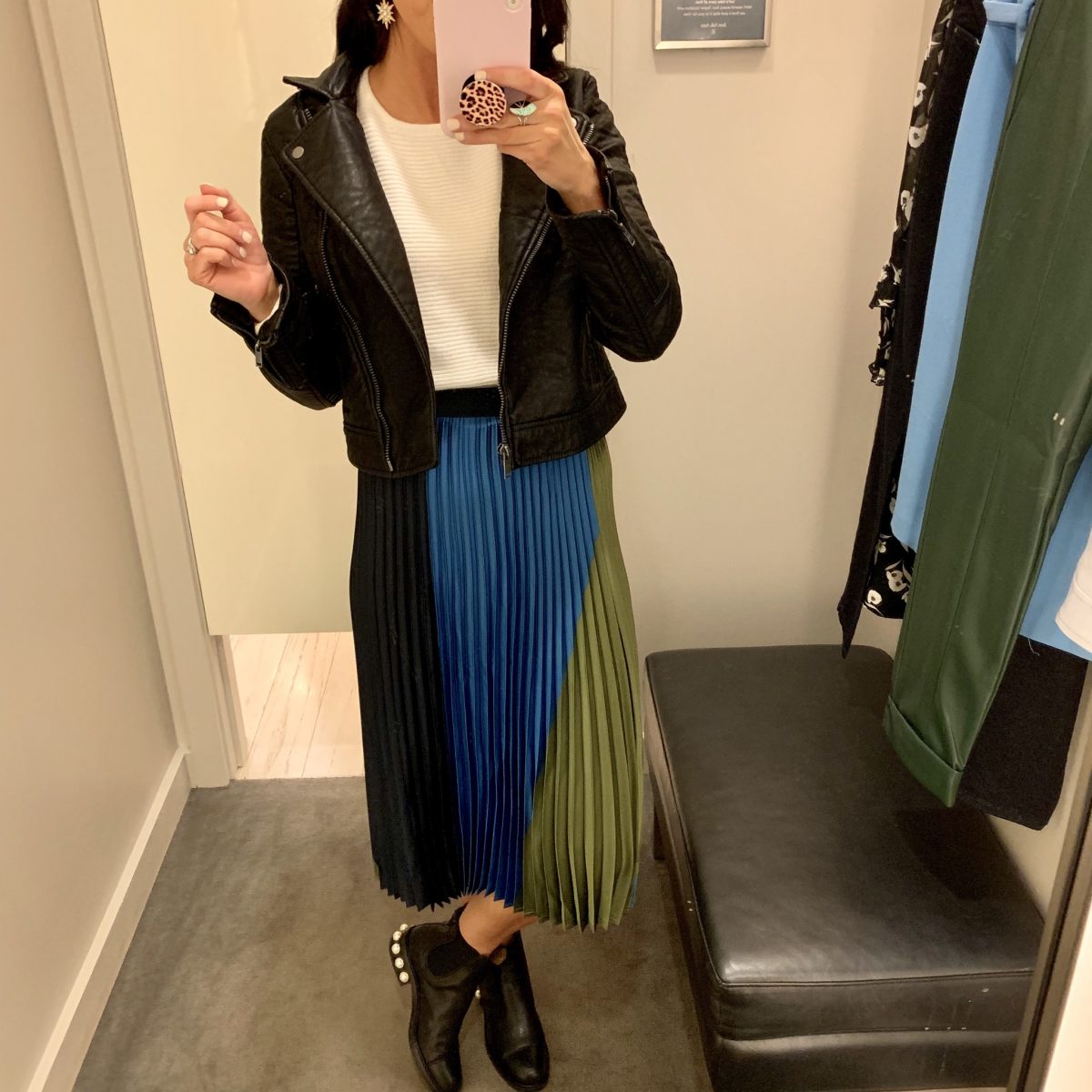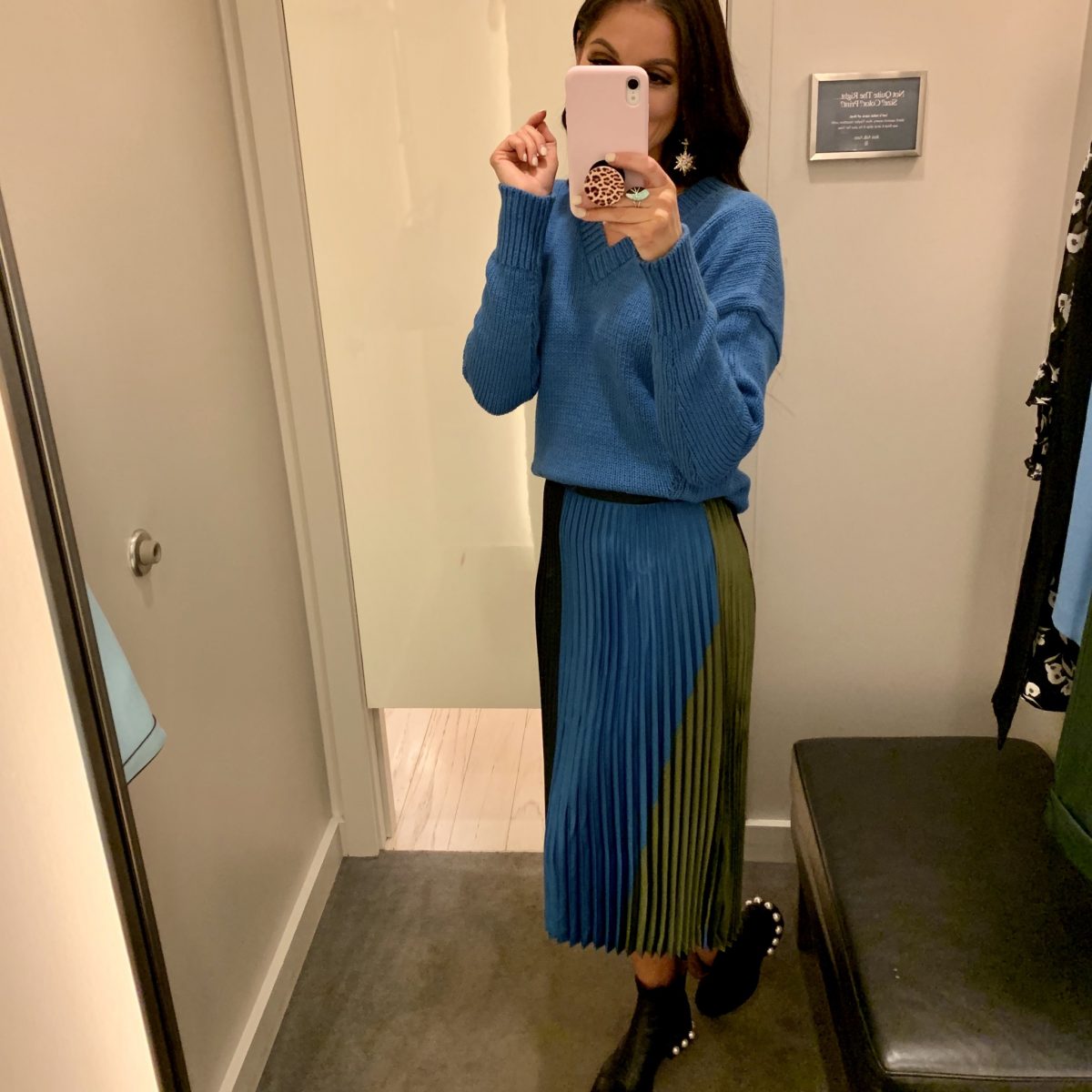 Skirt: (xs) This skirt!! I knew I had to have this the second I tried it on. The styling possibilities are endless! I'm so excited to show you different ways to style this, especially for the spring. The colors in this skirt are so much fun, and I'm especially loving this shade of blue from their new collection.
Blue Sweater: (xs) They had this skirt styled with this blue sweater in the store and I loved the look of it! I also love the fit of this sweater. It would look great tucked into high-waisted jeans too.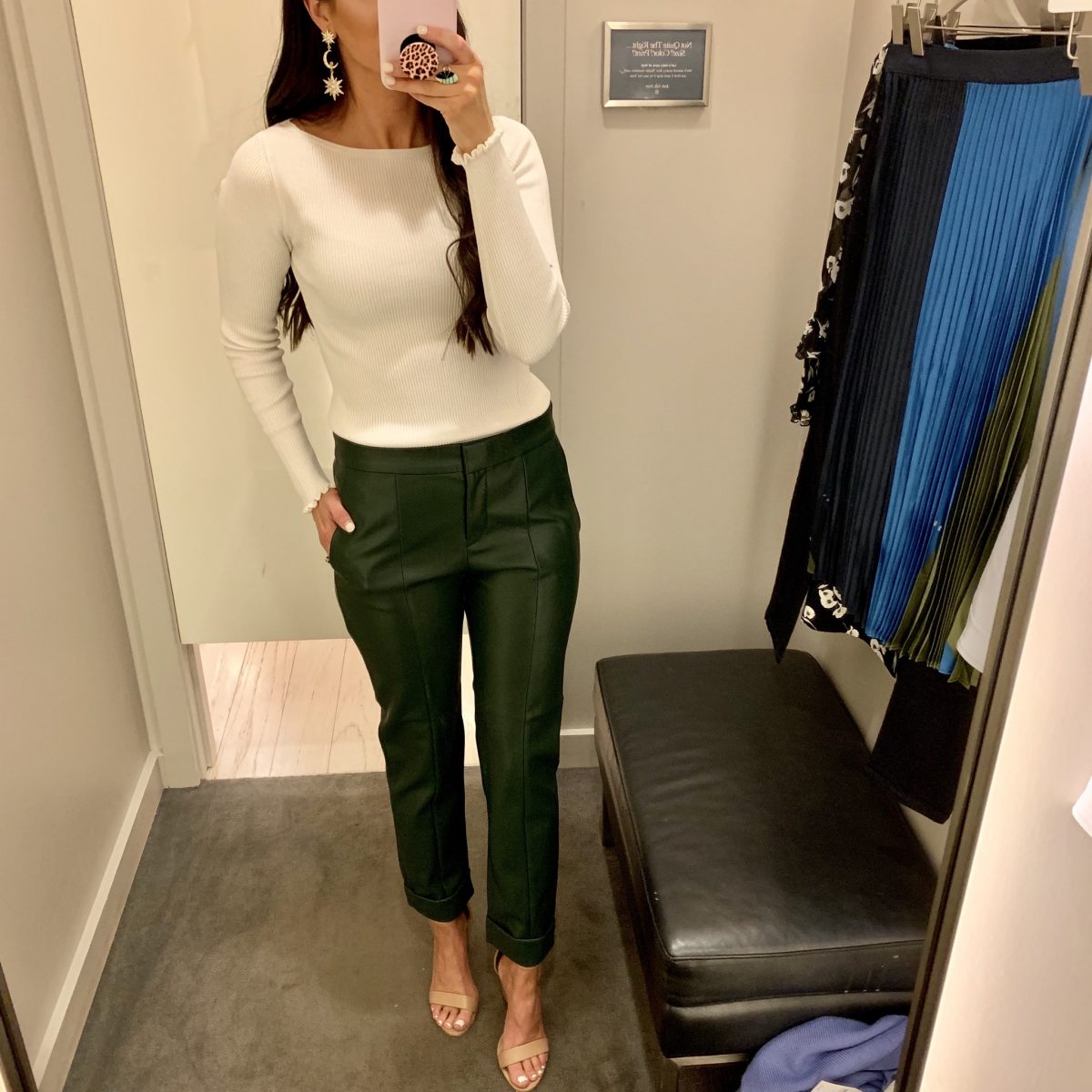 White Sweater: (xs) This was my favorite sweater that I tried on! It comes in so many different colors, and is a great basic. I love the ruffle details on the sleeves. This is a top that looks great tucked in with high-waisted skirts, jeans, and pants. I think I'm going to purchase this sweater in multiple colors. This is also one of those pieces that you'll hold onto for a long time, and is really just a good basic.
Leather Pants: (0) Every single girl needs a pair of these leather pants! They come in this shade of green and black. Unfortunately, they didn't have my size in the black so I wasn't able to try those on in the store. They are so flattering and so comfortable. I also love the length on these. I'm 5'5″ for reference, and these are the perfect length to pair with heels. Even my husband commented on these pants. So basically I'm telling you these are the perfect date night pants!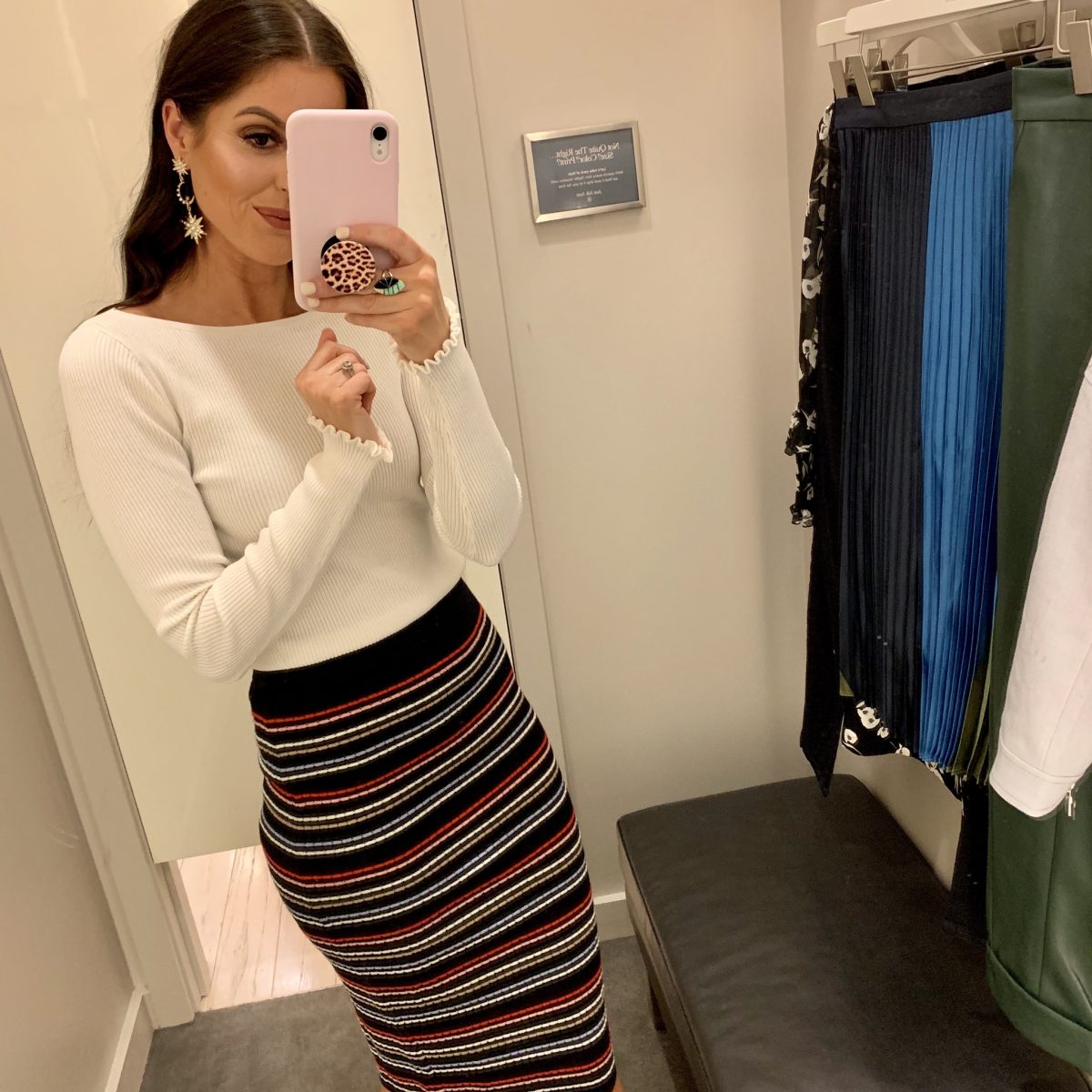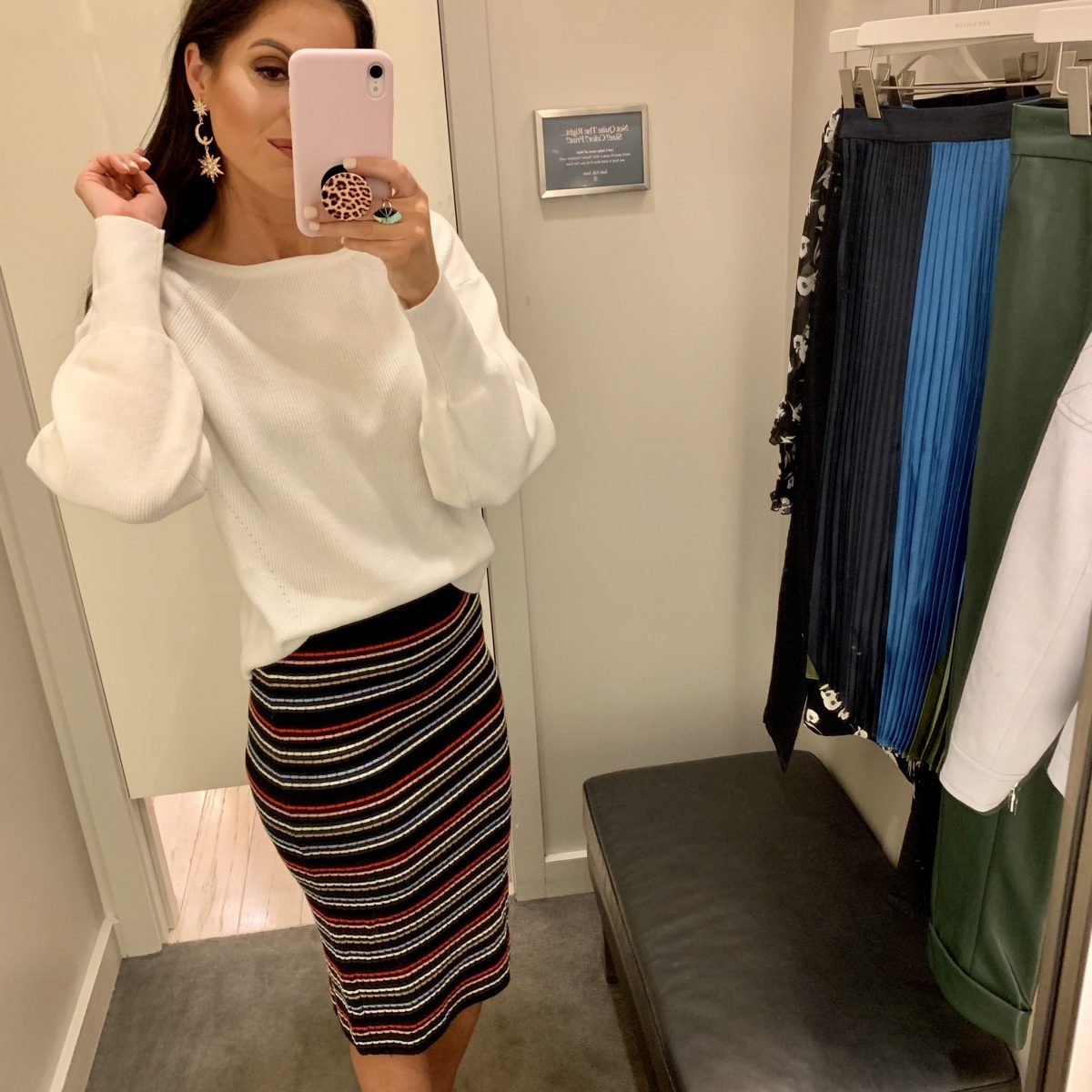 Skirt: (xs) This skirt came straight home with me!! The colors in this skirt are so fun and also make it so easy to pair with so many different tops. This is one of those pieces that you can dress up or down. I'm planning on styling this with a white tee knotted in front, and my suede moto jacket. I'll definitely be sharing with you different ways to style this skirt!
White and Periwinkle Cropped Sweater: (xs) I've really been loving the cropped sweater trend! These cropped sweaters come in several different colors, and aren't too cropped. I love all things periwinkle, so I immediately picked up this sweater. This skirt has periwinkle in it too, so it pairs perfectly.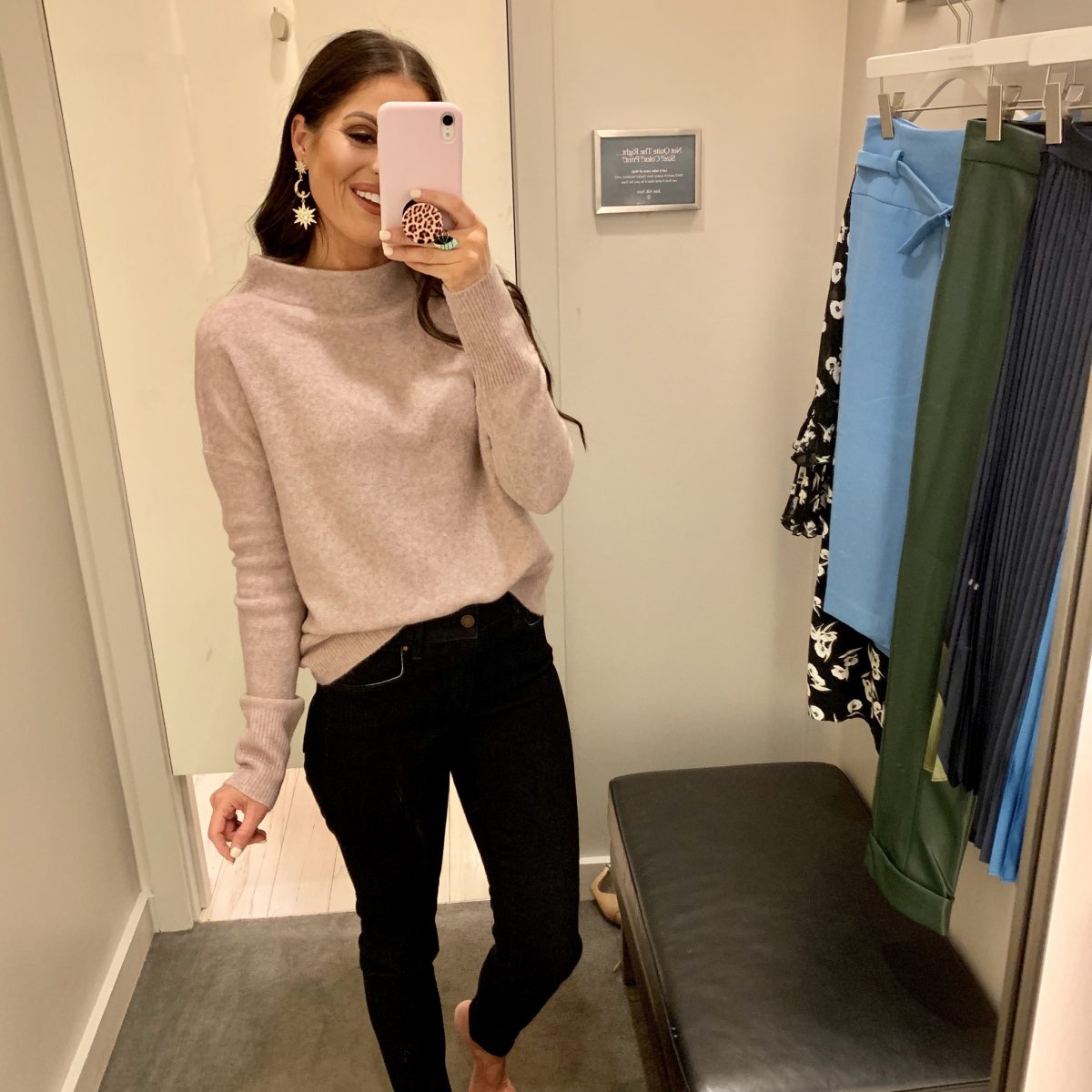 Sweater: (xs) I want this sweater in every single color!! I've never found a sweater with this neckline that looks good on me. When I tried this on in the store I had no idea it came in more colors until I looked it up online. It comes in several different colors and is so soft and not at all itchy.
Jeans: (0) This is the first pair of jeans I've tried on from Ann Taylor and I loved them! If you've followed me for a while you know I'm picky about jeans, and pretty much only buy them from one brand. But I have to say I love these jeans! They're perfectly high-waisted, and have the perfect stretch to them.